Be a Disciple
What it would be like to believe in someone so much that you would dedicate your entire life to help them achieve their goal? Like King Arthur and his knights, and the warrior princess Guinevere.
When a person becomes this dedicated to a person and a goal we call them a disciple.
What does it mean to be a disciple in the 21st century? What do we have to do? What must we leave behind? What changes must we make once we decide to follow Jesus?______________________
The purpose of this interactive blog is to set out clearly how to begin living daily as a follower of Jesus.
Learners and followers of Jesus will pattern their lives after his life. They will diligently search the Scriptures to learn how Jesus conducted his life.
Definition of a Disciple
The Greek word for disciple in English is spelled Mathetes. It literally means "learner," but with the implication the person is a "learner" of a particular teacher. A "disciple" is a person who "follows" the teachings of another individual.
What must I do to become a learner?__________________.[1]
How do you decide whom you should follow in your spiritual life? Hebrews 13:7[2] says we should ____________ the faith of our leaders.
According to Luke 6:40,[3] a disciple is compared to a student who "When _____________ trained will be like his teacher." In 1 Corinthians 11:1[4] we see our ultimate example is "______________."
Design for Becoming a Disciple
What does it take to become a disciple? Is there a process that will help us become successful disciples?
The First Step is Desire
In Philippians 3:7-17[5] the writer, Paul, paints a clear picture of his desire. Paul said, "What is more, I consider everything a ______________ because of the surpassing worth of knowing Christ Jesus my Lord." Paul considered every life achievement to be "garbage" compared to Christ so he desired to make Christ number one in his life. For this Paul said he only desired to put Christ first in everything in his life.
What competes with God for the number one position in my life?____________________________________.
The Second Step is to Select The Role Model
Jesus is our example and pattern. So are faithful brothers and sisters in Christ. Paul urged those he baptized to imitate him as he imitated Christ. Paul says in Philippians 3:17,[6] "Join together in ______________________, brothers and sisters, and just as you have us as a _____________, keep your eyes on those who _____________."
The Third Step is to Persist!
Paul says in Philippians 3:14[7] we should, "Press on to win the ___________________." What is this prize? In Philippians 3:10-11[21] Paul says, "I want to know _____________—yes, to know the power of his resurrection and participation in his sufferings, becoming like him in his death, and so, somehow, attaining to the resurrection from the _____________."
Demonstration of Discipleship
True discipleship is costly.

Dietrich Bonhoeffer[8] learned just how costly is discipleship when he was put into a Nazi prison for his faith and eventually sentenced to death. Bonhoeffer is the author of the book called The Cost of Discipleship. In his book Bonhoeffer writes, "Christianity without discipleship is always Christianity without Christ. It remains an abstract idea, a myth which has a place for the Fatherhood of God, but omits Christ as the living Son. … There is trust in God, but no following of Christ."
One of the most powerful demonstrations of Christian discipleship in modern times is that of Richard Wurmbrand. The man who, for the sake of Christ, loved in the face of torment and inspired his tormenters to also follow Jesus.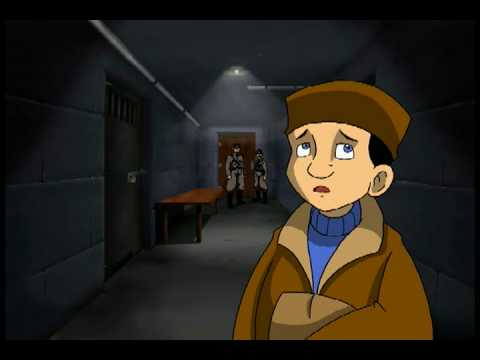 His book, Tortured for Christ, has been read by millions around the world. His family offers totally free copies of the book. You can order one for yourself and send free copies to friends.
While most disciples of Jesus will not be required to suffer like Bonhoeffer and Wurmbrand, the fact is discipleship will cost you something. At the very least you will need to lead a changed life.
Consider these characteristics of the changed life of a disciple.
A disciple follows the Word
John 8:31-32[9] says we are really disciples of Christ if we hold to Christ's "_______________." Part of Christ's teaching is that a disciple will turn away from a life of sin. Throughout the scriptures even as Christ is full of grace regarding forgiveness, Christ still expects a changed life. In John 5:14[10] Christ warned a man he had earlier healed that the man needed to stop sinning.
A disciple gives his life as a living sacrifice. Romans 12:1-2[11] says we must, "Offer your bodies as a _____________, holy and pleasing to God."
A disciple loves others as Jesus loves him. John 13:34-35[12] says, "A new command I give you: __________ one another. As I have ______________ you, so you must ______________one another. 35 By this everyone will know that you are my disciples, if you _____________ one another."
Two Fruits of the Disciple's Life
A disciple bears two kinds of fruit in their life. That is, the life of a disciple shows two kinds of evidences that they are following Christ. The disciple shows the fruit of resembling Christ and the fruit of helping reproducing Christ in others.
In John 15:1-8, 16[13] Jesus said, "I am the true vine, and my Father is the gardener. 2 He cuts off every branch in me that bears no ___________, while every branch that does bear __________ he prunes so that it will be even more fruitful. 3 You are already clean because of the word I have spoken to you. 4 Remain in me, as I also remain in you. No branch can bear fruit by itself; it must remain in the vine. Neither can you bear fruit unless you remain in me. 5 "I am the vine; you are the branches. If you remain in me and I in you, you will bear much fruit; apart from me you can do nothing. 6 If you do not remain in me, you are like a branch that is thrown away and withers; such branches are picked up, thrown into the fire and burned. 7 If you remain in me and my words remain in you, ask whatever you wish, and it will be done for you. 8 This is to my Father's glory, that you bear much fruit, showing yourselves to be my disciples."
So we see that we are to bear fruit. But we also see that it is Christ who will enable us to bear fruit. "I am the vine; you are the branches. If you remain in me and I in you, you will bear much fruit."
The Fruit of Resemblance
In Galaions 5:22-23,[14] what fruits of resemblance does it say your life will produce as a Christian? "But the fruit of the Spirit is ____________, _______________, ______________, _______________, _______________, ________________, ______________, ______________ and _______________. Against such things there is no law."
The greatest fruit the life of a Christian can produce is that of love. 1 Corinthians 13:4-8[15] says, "Love is ______________, love is _____________. It ______________, it _____________, it is _____________. It __________________, it_____________________, it ________________, it keeps _______________. 6 Love does not delight in ___________ but rejoices with the ___________. 7 It always _____________, always _____________, always ____________, always ____________. 8 Love never ________________."
Which of these fruits do I have in abundance?________________
Which of these fruits do I need help in developing?__________________
The Fruit of Reproduction
One day Jesus got in a boat and went to his hometown. He got out of the boat and some men in the town brought a paralyzed man to him. Jesus said to the man, "Take heart, son; your sins are forgiven." It was a strange thing to say since the men had brought the paralyzed man to have his body healed. There were religious leaders there and this angered them, that Jesus would say someone's sins were forgiven. The angry religious leaders didn't say anything, but they had secret thoughts that Jesus was himself sinning against God by suggesting Jesus himself could forgive anyone's sins.
Jesus knew what they were thinking so he said to them "Why do you entertain evil thoughts in your hearts? Which is easier to say, 'Your sins are forgiven,' or to say, 'Get up and walk'? But I want you to know that the Son of Man has authority on earth to forgive sins." So he said to the paralyzed man, "Get up, take your mat and go home." 7 Then the man got up and went home.
When the people who had crowded around saw this they were amazed and they praised God that a man had been given such authority. Matthew 9:1-8.[16]
Jesus didn't come just to heal people's bodies. He came to heal them of their sins. As disciples of Jesus we are asked to bear the fruits of resemblance and reproduction. When we help other people to know Jesus and have their sins forgiven we are bearing the fruit of reproducing the life of Christ in others.
In John 4:34-38,[17] Jesus says, "I tell you, open your eyes and look at the fields! They are ripe for ___________." What he means is that people need to hear the good news: "For God so loved the world that he gave his one and only Son, that whoever believes in him shall not perish but have eternal life." John 3:16.
Luke 19:10 says, "For the Son of Man came to seek and to save the lost." As disciples of Christ we are to seek to do the same. In Matthew 28:19-20,[18] Jesus gave this work to those of us who will follow him. He said, "Therefore go and make ______________ of all nations, _____________ them in the name of the Father and of the Son and of the Holy Spirit, and _____________ them to obey everything I have commanded you. And surely I am with you always, to the very end of the age."
When we help reproduce Christ in others heaven rejoices. In Luke 15:3-7[19] Jesus says, "I tell you that in the same way there will be more ___________ in _________ over one sinner who repents than over ninety-nine righteous persons who do not need to repent."
Make Your Plan to Bear Fruit
Make a plan for how you will practice resembling Christ in your life. List three areas of your life that could improve to look more like the "fruits" listed in the above scriptures.
Make a plan for how you will lead others to Christ.
You don't have to become a professional minister to share Christ with people. All you have to do is to "open your eyes and look at the fields" around you and see that God has placed you among the people in your every day life. You can begin to find ways to reach out to them naturally just because you are already spending time with them. Paul said this in Colossians 4:2-6,[20] "Devote yourselves to prayer, being ___________ and thankful. 3 And pray for us, too, that God may __________ a door for our __________, so that we may proclaim the mystery of Christ, for which I am in chains. 4 Pray that I may proclaim it clearly, as I __________. 5 Be wise in the way you a__________toward outsiders; make the ___________ of every opportunity. 6 Let your _______________ be always full of grace, seasoned with salt, so that you may know how to answer everyone.
Do Something!
Now that you are a disciple of Christ, live like one! Guard your life like King Arthur's knights guarded their honor. Look for ways to serve your new King, Jesus Christ, just like Arthur's knights sought ways to serve him. Strive to resemble your King in every part of your life.
And strive to serve your King among others.
One practical way to begin to reach out to others for Christ is to simply make a list of people you can reach out to. Make a list of ten people in your life whom you want to reach for Christ. Use this list to pray for these people and to look for opportunities to reach out to them in your every day life.
Footnotes
(↵ returns to text)