Like George, You Have Been Shown Your Life's Purpose!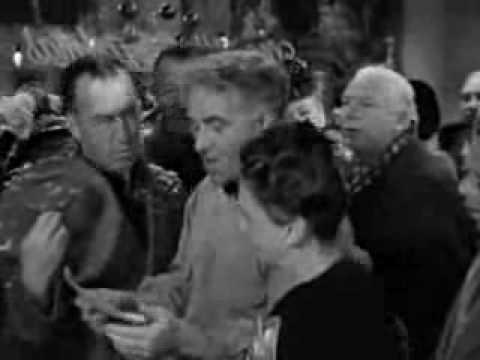 George Bailey is about to give up when God intervenes and sends a messenger to help him. The messenger awakens George to the purpose of his life, which is to help others. George responds to what the messenger reveals to him by accepting a renewed life from God. Immediately George sets out to share his new life with others! Starting with his very own family and friends.
When we are reconciled to God through Christ we are given a new life. 2 Corinthians 5:17.[1] This is God's plan all along for any who will accept that they are lost in sin and in need of a savior. When we accept that Christ alone can save us and we turn to him for forgiveness he completely forgives us. Only God is powerful enough to do this.
In Psalms 103:12[2], how far does it say God removes our sins from us? "As far as the _____________ is from the ____________, so far has he removed our transgressions from us."
Our purpose as people reconciled to God in Christ is to share this good news with others. God teaches us his plan for how to use Christians and the body of Christ, the church, to continue to reconcile people to himself.
God's Plan For Our Lives
In the beginning God created mankind. Genesis 1:26-28.[3] God created a place for them to take care of and they were not ashamed.[4] God walked in this place with the people he created, a garden.[5]
Very quickly we see that God's first humans, just like us, lost their relationship with God because they sinned against him by disobeying him.[6] But God was not done with us. He chose to bless us with a covenant of forgiveness and reconciliation.
Reconciliation with God Begins with a Covenant
God chose Abram to bless all mankind. Genesis 12:1-3[7] says, "And __________ ___________ on earth will be blessed through you."
This promise was ultimately fulfilled in a descendant of Abraham. Acts 2:21, 36[8] says, "And everyone who calls on the _____________ of the _________ will be saved.'" " "Therefore let all Israel be assured of this: God has made this _____________, whom you crucified, both Lord and Messiah."
The Church is The New Israel
The New Israel
The early disciples were taught to regard themselves as the new and true Israel of God, not because they were Jews, but because they were chosen and had responded.
Read Galatians 3:25-29[9] According to the scripture, who are the beneficiaries of the promise made to Abraham?_____________________________[10] What is the promise?_________________[11]
In Galatians 6:16[12] Paul referred to the disciples as the ___________ of God.
According to 1Peter 2:9[13] What are our responsibilities as the new Israel of God?________________________________
The Mission of the Church
The mission of the Church is to reconcile the world to God. God reconciled us to himself through Christ and gave us the ministry of reconciliation. 2 Corinthians 5:18-21[14] says, "All this is from God, who reconciled us to himself through Christ and gave us the ministry of ___________________. That God was reconciling the world to himself in Christ, not counting people's sins against them. And he has committed to us the message of _________________."
What action will I take reconcile the world to God? ________________[15] According to 2 Corinthians 5:20[14], what is my role as an ambassador? _________________[16]
We are called by God and reconciled by the blood of Jesus. Jesus has commissioned us to share the good news of reconciliation. Matthew 28:19 says, "Therefore go and make disciples of all nations, baptizing them in the name of the Father and of the Son and of the Holy Spirit."
God's Resources to reach the lost
God helps us reach the lost through three main resources. His Word, his Spirit, and those he has reconciled to himself through the forgiveness of sins in Christ, his Holy people.
Hebrews 4:12-13[17] says, God's Holy Word is "____________ and active."
John 14:26[18] says, "But the Advocate, the Holy Spirit, whom the Father will send in my name, will ____________ you all things and will ___________ you of everything I have said to you."
In Mark 16:15-16[19] we learn that God's Holy people are to, "Go into all the world and ______________ to all creation."
As a fellowship of believers we are expected to carry out the mission of the Church. We are given an example of how we are to do this in Acts 2:42-47.[20] "They _____________ themselves to the apostles' teaching and to _______________, to the breaking of bread and to ______________. 43 Everyone was filled with awe at the many wonders and signs performed by the apostles. 44 All the believers were together and had everything in common. 45 They sold property and possessions to give to anyone who had need. 46 Every day they continued to meet together in the temple courts. They broke bread in their homes and ate together with glad and sincere hearts, 47 praising God and enjoying the favor of all the people. And the Lord added to their number daily those who were being saved."
A Practical Way to Reach People For Christ
Each One Reach One. Commit to reach out to just one person at a time. Once you have reached someone for Christ invite them to do the same. Imagine if just every six months one person was reached by one other person. Look what could happen at the end of five years. Look at 15 years!
1 + 1 = 2 At the end of 6 months
2 X 2 = 4 At the end of 1 year
4 X 4 = 16 At the end of 2 years
16 + 16 X 2 = 64 At the end of 3 years (the 16 has doubled twice)
Using this strategy more than a thousand people could be reached in 5 years. At the end of 15 ½ years more than two million people could be reached for Christ!
Do Something!
List one valuable insight you have gained from each of these sections.
Reviewing God's Plan for Me_______________________
Reconciliation with God Begins with a Covenant______________
The Church – The New Israel______________________
My spiritual goal based on this lesson is:__________________
Footnotes
(↵ returns to text)